Warning!  I am a satirist!  If you do not have a sense of humor or are easily-offended, these blogs may not be for you. May I interest you in an innocuous episode of Peppa Pig instead?
 A Runner-Up Recap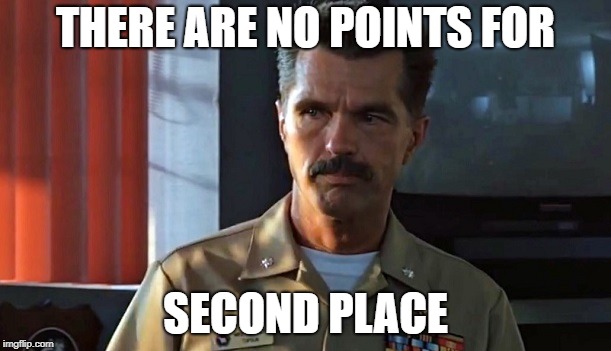 Naysayers And Crayons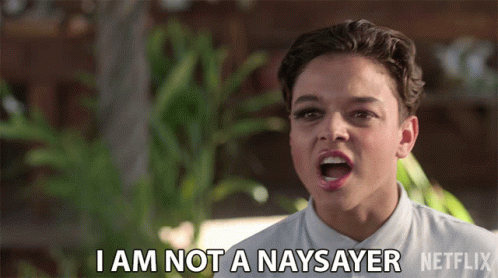 Tom Skerritt's character "Viper" says somberly to the Top Gun squad at one point: "There are no points for second place."
At this point I would like to fall out of line and call BS to that....SIR!  And I will explain to you why, Sir. *salutes*
Before I do that, I realize from the get-go that this blog may ruffle some feathers.  Sometimes even in the best community, you do not have "glunity" (see my face-melting post from a few weeks ago).  There are those who love to look at every little thing with suspicion and throw shade on even the best of intentions.
To those people I say: I have neither the time nor the crayons to explain inspiration to you.
In fact, those who trust me and like what I post are happier, more intelligent, and better-looking than those who do not, according to a study I just made up.
There is no boasting in this blog.  Boasting is perceived by those who are jealous.  Inspiration is perceived by those who long for success, and, more importantly, choose to celebrate others' success.  It has been a long time since I hosted my last "VoiceOverdrive" weekly business report on Instagram, but I remember well how many people tuned in and wanted to see that a career in voiceovers is truly possible.  It has always been my heart to do a few things in my voiceover career:
Inspire
Prove that that inspiration is not hollow, and
Perform the very first naked voiceover from the Great Red Spot on Jupiter
I am therefore now going to recount my own year in voiceovers and show you, dear reader, once again, that it truly is possible to enjoy a career in voiceovers.  I hope the one thing that this blog lays on thick is a creamy topping of…Pure. Unadulterated. Inspiration.
As a bit of a recap, here is 2021 for comparison:
In 2021, I made $384,218.54 in voiceover-related pursuits (between jobs, business coaching, and supplemental books sales and sales of other products) and was awarded roughly 721 jobs.
Voice123, where I concentrate most of my new-client P2P efforts, saw me receive 246 of those jobs.
My daily average income was $1044.60.
I published 47 blogs in 2021.
2021 was a great and tremendous year of success for me and my family.
A 2022 Review In Slot Number Two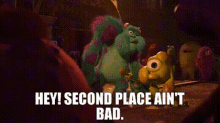 So how did this year stack up?  Hop on board the Josh Alexander Time Machine Express!
On January 22nd of this year, Bubbytown Studios was born.  This was a complete build-out of an 880sf shop in our backyard that had only one limited electrical outlet.  $60,338.40 and three months later, it was up and running: complete with full electrical, five motion sensor lights, A/C heat pump with two mini-splits, luxury vinyl plank, attic access, insulation, recessed lighting, windows, alarm system, a closet, a rec-room, an office, and a completely standalone studio booth designed soundly from expert booth construction tips garnered online.  For this investment into my business, I obtained a HELOC for a little over half the balance intending to pay cash…and ended up not touching it at all.  I paid cash for this studio.  Cash from voiceovers.
December 2020 - my highest revenue month ever - I made $39,535,87.  I have hit $38k three times One of those $38k months was March of this year.  But December of this year?  I finally cleared $40k, with a grand total of $40,117 in a single month.
On Black Friday 2021 I purchased the car of my dreams (until one of you buys me that Corvette Stingray I just wrote about): a 2021 two-tone Nissan Rogue, specially ordered, for $43,668.  On July 6th, less than 8 months after receiving it, I paid it off completely.  In cash.  Cash from voiceovers.
In the last week of April, I was awarded 25 jobs: one of my highest weeks ever.
On May 16th, I purchased first class tickets to Atlanta for VO Atlanta 2023.  With cash.  Cash from voiceovers.  **Update: I have decided to not attend in 2023, regrettably.
July saw me produce a brand new website for my blog: this one!  I am so thankful for all of my readers and fellow voiceover colleagues who allow me to steal your time away each week with the promise that you will perfect your ability to sleep while reading.
I was apparently not done with websites yet: August saw me launch my business coaching endeavors with Super Voiceover Coaching.  To date I have enjoyed 30 clients, most likely because this new website starts with "super."
In October, I joined a top-tier legitimate voiceover talent agency and am still on a trial basis.  I have been placed on hold for jobs twice…just waiting for my ship to come in.  I will let you know the agency name in due time. No, it is not Idiom Talent.  Scroll back and you will see that I clearly said "top-tier" and "legitimate," not "pretend" and "hootenanny."
In November of this year, I traded in our malfunctioning 2020 Honda Odyssey van for a 2023 upgrade, a "Touring" Edition.  Our old van's audio system was constantly and inexplicably crackling, and I had brought it in for repairs five times.  Each time they would say it was fixed, yet it was not.  I could not stand it any further, and all attempts at a bona fide exorcism had failed.  Also chanting naked around a fire with sticks did nothing.  So we brought the old one in, upgraded, with a balance after trade-in of $13,000.  I paid that off in a little over a month.  In cash.  Cash from voiceovers.  Also I now dance indoors while fully clothed.
In late December I received a massive payment from a series of renewal spots, and paid off our BECU Visa, our Honda (see above), and my Apple Card.  In cash.  Cash from voiceovers.
I published 52 blogs this year, including my 250th in February.
My daily average income was $947.94.  From voiceovers.
So…did I beat last year?
No.
I made $364,903.51 ($19,315.03 less), and was awarded roughly 686 jobs (35 less).  But my average per-job-payout (not my daily average) actually rose.  And Voice123 was not bad either, seeing 234 customers.  Also, repeat customers now makes up 43.46% of my business, with 985 total jobs and $517,553 in revenue since 2016.  Since 2016, I have made $1.2M in voiceovers.  Not too shabby for a former wedding videographer.  If you ever told me I would be making six figures thrice over using my voice, I would have replied in Latin that you were non compos mentis, which, once translated into Alexanderese, is "cuckoo crackerbats in your upstairs noodle loaf."
One of the ways that I mark how successful a year has been is:
how much debt we have at the end of it
how many presents there are under the tree
how much money we have given away
does Jupiter still have a Great Red Spot for me to record naked in
We have very little debt now save our mortgage, though we have arranged to have windows replaced on our home starting in February.  In all honesty, that one is a HELOC. But we will pay it off in time.
I spent a fortune on presents this year for my loved ones, because we were able to, and out of the bounty God gave us, I wanted to pass that on, even though I am well aware of the Christmas rules:
And this year, we gave away $23,638.61 in church tithes and donations, not counting personal property such as an old TV and sound system, and always buying food for regular Friday night pizza nights with our neighbors virtually every week.  Also not counting books I have produced and paid for, and given away for free.  The previous year we gave away $16,234.92 in tithes and donations.  I count that increase in giving of nearly $8000 a GREAT success.
And Jupiter still has the red spot.  Please look away as I remove my clothing.
Secrets to My Voiceover Success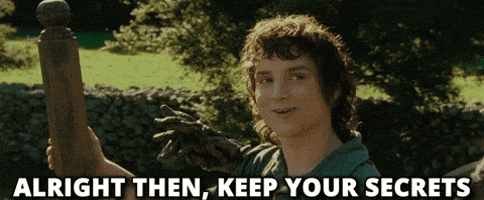 Incredulity – I cannot believe how fortunate I am.
Gratitude – that incredulity leads to an overwhelming sense of gratitude at the provision given.
Nonconformism / not afraid to risk – it is not very easy to swim against the stream. But doing so has allowed me to publish five books and nearly 300 blogs, speak at conferences, lead a massive Facebook group, and more.  I am not afraid to risk.
Consistency – I could rest on my laurels, but that would see me immobilized amongst my accolades.   A rolling stone gathers no moss.  And so?  Onward I roll, mossless.
Goal-tracking – I always have goals. I have to live by them, or I will not function.  And they need to be SMART goals.
Prayer – I pray every day that God would bless my endeavors.
A genuine fear of returning to wedding videography – this is what sustained me financially before voiceovers, and I never ever want to return to it. I had to give up each and every Saturday (and sometimes Sunday) away from my family in order to capture someone else's dream – and if I did not do it right, they would run straight to Yelp.  Thank God for deliverance, hallelujah amen.
COFFEE! I feel "coffee" is self-explanatory to anyone who drinks coffee.
Honorable mentions:
I treat this whole thing as an enterprise.  This whole report, this blog, is an earnings report.  That is what big Fortune 500 companies do.  We share to encourage, to build trust, to increase stock in our organization.  To show we are going somewhere.  Joshua Alexander Voiceovers is my enterprise.
I work really, really, really hard, and I care really, really, really deeply that I succeed.
I share all of this for the same exact reason that I regularly blog and wrote five books.  To inspire.  To encourage.  To show you that the dream of a successful voiceover career is most definitely possible.
And now you know.
I love to give.  The Bible says (Oh no! Is he actually quoting the Bible?!?!) that "God loves a cheerful giver."  So I give.  Anonymously, most times.  I love to give, because pouring out from what was poured in is richly satisfying.  And I am overjoyed to have been equipped so well to give these past few years, out of the abundance of voiceovers.  In many areas of the voiceoversphere I continue to be actually prevented from giving - and that grates me to my core.  It is my deepest desire to simply make your livelihood better through inspiration.
With all of that said, am I the best?  I am acutely aware that I am not.  There are those "above" me who make triple, quadruple, quintuple what I make.  Am I jealous of them?  Not one bit.  I mean it: I am utterly inspired by the level of their success!  And so should you be.  They pull me in their wake every time I hear them make mention of their accomplishments.  I love sharing these figures; I wish everyone did!  When I first started in voiceovers, I wanted to know if I could live off of this.  And so I hope in my sharing, you take encouragement that it is possible to fund your dreams through a successful career in voiceovers.
I am truly overwhelmed with BELIEF that this thing is possible, and that one day I will make quintuple.
So, at ease, and bite me, Viper, Sir.  There ARE points for second place.  And those naysayers and doubters?  They will probably eventually die from stress; that is, if someone does not send Luigi The Friendly Kneecap Remover after them.  On that note, if you ever have to bury a body, be sure to cover it with endangered plants so it is illegal to dig it up.  Follow me for more gardening tips.
No matter where you finished this year, even if it was in the single digits, you can do this.  I mean it!  I truly do.  If I can do it, so you can you.
May you truly soar this year.  You, dear reader, are a Top Gun.  If not now, then it is just a matter of time.
And coffee. 
By the way, if you experienced any difficulty reading this blog, I apologize: it may be due to interference from deep space, as I am on my way to Jupiter. Naked. With my microphone.
===
On another note, this will be my last blog for a while.  Due to external circumstances including, honestly, burnout, I will be taking a break.  I want to thank all of my readers for taking the time to read and partake of my blogs.  My driving desire has always been to inspire.  Thank you for allowing me to do so.
=====
YOU HAVE MADE IT ALL THE WAY TO THE END, AND I SALUTE YOU.
Thanks for reading!
This is not a commercial site, but if you would prefer to hurl large wads of cash at me, please know that I do not refuse such cash gifts if it means I can pretend I am a church
Check out my whole UNIVERSE of blogs right HERE!
This is a fourth bullet point.
AND HEY!  WAIT JUST A S.E.C.!
S-UBSCRIBE & S-HARE!: If you enjoyed this blog, please consider subscribing and sharing with friends and family, and encouraging them to subscribe and share.  Offer treats for doing so.
E-NCOURAGE: Go encourage someone else today with a single, simple sentence of affirmation.  Tell them, "I like your earrings", unless of course they are manly men, in which case you should compliment them on the size of their chainsaw.
C-OMMENT: I want to hear from you.  Please feel free to comment below!  Comments with lots of "You're wonderful" or "You're the best" will receive instant approval and acclaim.
Need a voiceover?  Request a quote today or visit my Demo Reel. Or subscribe.  Or do other things.
Joshua Alexander
The Voices In My Head Blog
[email protected] ∙ [email protected]
360.339.1900