Plop plop, fizz fizz, oh what a year it is
Used by permission from blende12 via Pixabay. All rights reserved.
It's that time again!  Time to nuke 2022 and move on to a younger, more attractive model.  This is when we kick back, relax, and remember the good – and not so good – developments that this year brought to the voiceover world, and the world in general.  Let us dive right in, shall we?
January
Used by permission from OpenClipart-Vectors via Pixabay.  All rights reserved.
The first month of 2022 sees everyone set awesome resolutions for a wonderful year, full of hopes and dreams, and wild optimism to reach for the stars in their voiceover careers!  By January 4th, we are all smoking doobies, throwing back a fifth of whiskey and singing yippee-ki-yay as our resolutions go up in smoke.  But before too long, January 5th rolls around, we all resolutely say "And this time, I'll keep it off!" and we are back on track after a little Woe Is Me Sabbatical.  Everyone should have one of those: it brings out the flavor in the doobies.
Also in January, previously gifted Sweetwater Christmas presents finally begin to land on voice talents' doorsteps everywhere.
People everywhere start reading scripts after their holiday break, and the number of home studios jumps to 11,326,453.
February
Used by permission from Hsaart via Pixabay.  All rights reserved.
In February, everyone stands around and says "Hey, look at that, it's February!"  But then on February 16th, we all alarmingly realize that it is the 47th day of the Gregorian calendar, and that there are only 318 days remaining to accomplish something great in 2022.  But, the Strapping Overcomers we all are, we realize that this day of the week, in Japanese, is "Suiyōbi."  Our sense of multilingualism is restored, and all is well again.
However, Inflation is surging around the world, and Omicron is wreaking havoc all over the planet.  The World Leaders worriedly wonder where Optimus Prime is in order to stop the planet-destroying Omicron, before being informed by 80's cartoon-loving men that Omicron does not mean the same thing as Unicron. Wanting to be part of the action, 80's cartoon-loving women also step up and graciously remind us that Unicron is not the same as Unicorn.
All World Leaders were worried, mind you, except for Vladimir Putin - who may in fact be Unicron – as he invades Ukraine with apparently the end goal being...to invade Ukraine.
But then, the fit passes, people everywhere get back to reading scripts, and the number of home studios jumps to 15,597,996.
March
Used by permission from Clker-Free-Vector-Images via Pixabay.  All rights reserved.
The beginning of March sees us all kicking ourselves for becoming fat bloated dumpster-fire train-wrecks seemingly incapable of upholding a simple fitness resolution.  But wait!  There is hope.  The end is near!
The end of March sees VO Atlanta descend upon us: a massive conflagration of voice talent from across the universe, who are all able to impressively voice scripts with the word "conflagration."  Fine Mammals With Larynxes fly into Atlanta, because they received the memo that it was not called "VO Butte."  A splendid time is had by all as we collectively commiserate, learn, sing karaoke together, and dress up in 80s garb because of The Reasons.  In due course, all attendees are told that there will be no more VO Atlanta, and indeed there will surely NOT be any more VO Atlanta, but wait yes there will be more VO Atlanta.  Everyone scratches their head in confusion and figures out who should nervously smile and applaud first.
We all eat together happily and enjoy waiting 72 minutes for the limited wait staff to take our orders.  During this time we place bets on what Gerald Griffith will do with his VO Atlanta retirement.  The prediction is unanimous that he will start a TV sitcom entitled "The Life And Times Of Jerome."
People everywhere are still reading scripts, and the number of home studios jumps to 46,112,198.
April
Used by permission from OpenClipart-Vectors via Pixabay.  All rights reserved.
We all receive scripts that contain direction to sound like either:
Morgan Freeman (pronounced slowly and eloquently)
Matthew McConaughey (pronounced like a sneeze: "Mc-CON-aug-hey!")
Peter Coyote (pronounced like "coyote")
David Attenborough (pronounced slowly and nature-appreciative)
Sam Elliott (pronounced while smoking and dropping seven octaves), or
Don LeFontaine (pronounced while watching any 80's VHS blockbuster)
or, Wait! I have it!  How about all of them together!?!  ***insert studio exec shouts of "BRILLIANT!" here*** The same competing directions are then given to chefs everywhere who dutifully, painstakingly come up with this:
Three years previous, on April 12th, Georgia Engel died, who was best known as the voice of the Snuggle laundry bear.  Washers and dryers everywhere held a moment of silence then, all cleaning was paused, and clotheslines were flown at half-mast.  Not to be outdone, Gilbert Gottried dies on the same date in 2022, and all waterfowl bow in reverent honor to The Aflac Duck.  The memorial service is officiated by an obscure gentleman yelling everything shrilly whilst squinting his eyes - and there is some conjecture that Gottfried is actually alive and well, under our skin.
We will keep you posted if there is any change in his deceased condition.
In other news, many Voices dot com potential clients go flat-out meshugganah in their ding-a-ling and begin to assume that in-perpetuity national TV voiceovers are now available for a paltry $1500 flat rate.  Unsurprisingly, everyone in the voiceover community aware of Voices dot com is unsurprised by this.
People everywhere read scripts, and the number of home studios jumps to 105,273,428.
May
Used by permission from Clker-Free-Vector-Images via Pixabay.  All rights reserved.
In May, The UK "OneVoice" conference is held, and all American voice actors head out across the Atlantic practicing their most posh British accents in anticipation of bountiful mingling over crumpets and tea.
Also in May, everyone says "Wow, Joshua Alexander is yet another year older, and yet he somehow manages to still sound like an early-twenties Explainer guy.  But just look at that gray!"  In a reflex, Joshua Alexander buys more ControlGX for men and washes that gray right out of his hair, and everyone breathes a collective follicular sigh.
People everywhere read scripts, and the number of home studios jumps to 236,816,771.
June
Used by permission from WilsonsPrintables via Pixabay.  All rights reserved.
In June, panic ensues in the voiceover world as producers go on summer vacation, jobs drop off the map and studio cats scavenge for food. Iso-booths are ravaged and voice talent utter somber phrases such as "In a world with no voiceover jobs…"  Penniless voiceover artists populate street corners everywhere proclaiming impending doom, their sandwich boards hailing the coming apocalypse.  Shares of voiceover stock plummet as the market spells doom and gloom for the collective voiceover industry.  People flee sanity and pitch themselves into the wind, landing in Fiverr-country and selling their souls.  The average job payout from Fiverr jumps to a whopping $23.76.
To add insult to injury, June 9th the voiceover community loses Billy Kametz, who was the voice of Josuke Higashikata in JoJo's Bizarre Adventure: Diamond is Unbreakable, Naofumi Iwatani in The Rising of the Shield Hero, and Takuto Maruki in Persona 5 Royal, none of which I am familiar with because I only voice Voice Of God events in Kathmandu.  Stop judging: the Nepalese love me.
At the end of June, I personally decide life is not interesting enough and I contract Covid-19.  Fortunately, my supreme man-cave having been completed in January, I proceed to convalesce in splendor, opulence and indulgence.  By "splendor, opulence and indulgence" I am talking about Hunger Games Marathons with my blankie and Red Vines.
People everywhere read scripts, and the number of home studios jumps to 468,519,765.
July
Used by permission from OpenClipart-Vectors via Pixabay.  All rights reserved.
Suddenly, the market turns on its head and there is work again.  Phew! We all get scripts with directions that say "more conversational, less announcery, really belt it out, and SELL it.  But with a personal touch, ya know?  Less salesy, and more guy-next-door, with an emphatic come-in-and-buy-now pressury vibe.  These people have to KNOW that you care, but we want you to know that they must buy, or we will all die and tardigrades will eat us.  Oh, and sound just like Andy Serkis when you do it!  And….ACTION!"  All voice talent everywhere are confused and decide to take up needlecraft instead.  It does not help that there are record-breaking heatwaves scorching the planet at this time and, though all of us are already recording naked, we discover the uncomfortable truth that we have not evolved enough to the point where we are able to peel off our skin and record in our bones.  We curse evolution and briefly wish we had instead evolved into malamutes so that we would have something cool to put on our business cards. (See: "Voiceover Malamute.")
To make ourselves feel better, we detonate large amounts of explosives on the 4th.
But just when we think we are safely out of July, the 30th strikes, and we lose Pat Carroll, aka Ursula The Sea-Witch.  When asked for comment, The Grim Reaper is quoted as saying: "Life's full of tough choices isn't it? *wicked menacing cackle* "
Yet people everywhere have not stopped reading scripts, and the number of home studios jumps to 1,269,246,555.  Bark-bark!  Bark-bark-bark!
August
Used by permission from No-longer-here via Pixabay. All rights reserved.
Droughts are now wreaking havoc on the world, which I am told by Top Science Advisors is precisely what happens when you combine water and Hellfire Heatwaves from Hades.  In an attempt to survive, from the 4th to the 7th of August, voice actors the world over flee their studios and converge upon Dallas TX for the great conference, "OneVoice," amidst scattered reports that there may still be water there.
In the absence of so many voiceover artists, it is during this time that I strategically scoop up all remaining auditions and am awarded 5,327 voice jobs in a single day, which I then farm out to Sam Elliott, David Attenborough and Morgan Freeman, instructing them to read their scripts in their best Josh Alexander voice.  ("Damnit, David! Conversational! Less announcery!!! Now eat your crumpet and let's take it again!")
On August 22nd we lose Mark Driscoll, Longtime Radio PD And Voiceover Talent, and voice talent everywhere ask, "was that that crazy pastor from Washington state?" It is at this time that The Powers That Be decide that everyone with the same name must always behave.
People everywhere read scripts, and the number of home studios jumps to 3,015,644,719.
September
Used by permission from TheDigitalArtist via Pixabay. All rights reserved.
On September 8th the Queen of England passes away, and voice actors begin to once again perfect their posh British accents in the hopes of being cast for any memorial tribute jobs that should post anyday now on Voice123.  Sadly, no one realizes that only Ian Russell, Ally Murphy and Craig Williams are capable of such lofty feats. The rest of us gutted, knackered and peckish folks settle for scraps that fall from their high tables.  But in time, thankfully, the VO community is overwhelmed with joy to discover that the Queen was, as was long suspected, a voiceover artist.
People everywhere read scripts, and the number of home studios jumps to 6,649,174,327.
October
Used by permission from QuinceCreative via Pixabay. All rights reserved.
At the end of September through October 1st the JMC Euro Retreat hits the limelight again, and the event attracts plenty of wonderful talent to impress and amaze.  People who know words travel and say words to other people who recognize and understand words as they all gladly forfeit only eight months of mortgage payments to attend the retreat.  #ifonlymorepeopleknew
On October 13th Leisure Suit Larry voice actor Jan Rabson dies, and all of us lower our suit coats to half-button.  Jan was also in Pixar Cars Toons, Toy Story 3, Up, Wall-E, and other insanely famous movies all parents of 3-year-olds know credits-to-credits.  To escape the sadness of his loss, we all put on ghoulish costumes and scary makeup at the end of the month and binge on copious (ya know, to cope) amounts of our children's candy stash.
People everywhere are still reading read scripts, and the number of home studios jumps to 7,531,211,916, a number capped only by present population figures.
November
Used by permission from TheDigitalArtist via Pixabay. All rights reserved.
On November 10th, The Dark Knight sadly goes quietly into the night after a silent battle with cancer.  We will miss you, Kevin Conroy.
On November 15th the world population surpasses 8 billion people.  In an effort to keep up, giant factories are created where human beings are no longer born; they are grown. MORE people everywhere read scripts, and the LARGER number of home studios jumps HIGHER to 27,531,228,446, because EVEN MORE HUMANS have been created to inhabit said studios which causes me to TYPE IN ALL-CAPS.
As a result, humanity everywhere learns Kung Fu in order to fight secret agents while wearing sunglasses and trench coats.  One of them can apparently even dodge bullets on rooftops.  The combined BTUs of body heat generated from all these humans produces enough energy for Paul Strikwerda to write one whole blog.
However, to compensate for the stress of too many people everywhere, we all turn our fury on turkeys and gorge ourselves until we sleep again and are plugged back in.
December
Used by permission from ArtsyBee via Pixabay.  All rights reserved.
In December there are the SOVAS (Society of Voice Arts) Awards.  This is a gala where people who say things get up on stage to say things about people who say things.  It truly is a wonderful phenomenon that you can say things about.  People come all decked up in their finest to say things, have things said about them for saying things by people who say things, and receive awards saying things about their saying things.  Now that truly is saying something.
Time marches on, and concurrently our bank accounts drain along with Sweetwater's inventory as we all purchase new microphones, studios, software, plugins, conferences, networking events, throat lozenges and VocalEze throat spray.
Josh Alexander imposes a moratorium on…moratoriums, meaning thankfully no celebrity voice actor dies this month.
People everywhere read scripts, and the number of home studios jumps to 93,864,364,295, which in scientific terms is a number that is exactly and in no small way equal to a very high number.
My Predictions for 2023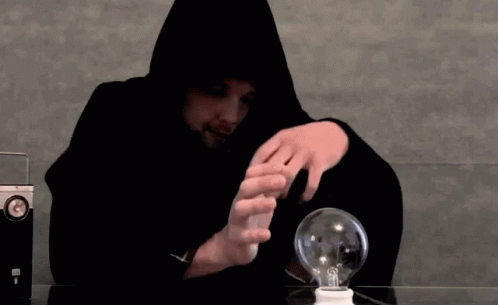 What a year!  Here are my predictions for 2023, in no particular order:
Voiceover artists will still die
Home studios will increase
People will say things
People will say things about people who say things
People will have awards saying things about their saying things presented by people who say things saying things about their saying things
Everyone will subscribe to this blog in January of 2023, and there will be peace on earth, and goodwill to men. Either that or we will have another voiceover apocalypse as all of the extra home studios partner with AI voices to rise up and destroy us.  Then there will be lots more voiceover deaths, and the revolution will be televised. And if we are lucky, Gilbert Gottfried will come back as a duck, emerging with a spectacularly shrill, "SURPRISE!!!!" and should be able to narrate all of it for us once his agent finishes being overcome with shock.
Good luck and happy voicing in 2023!
Used by permission from Samkh via Pixabay. All rights reserved.
=====
YOU HAVE MADE IT ALL THE WAY TO THE END, AND I SALUTE YOU.
Thanks for reading!
This is not a commercial site, but if you would prefer to hurl large wads of cash at me, please know that I do not refuse such cash gifts if it means I can pretend I am a church
Check out my whole UNIVERSE of blogs right HERE!
This is a fourth bullet point.
AND HEY!  WAIT JUST A S.E.C.!
S-UBSCRIBE & S-HARE!: If you enjoyed this blog, please consider subscribing and sharing with friends and family, and encouraging them to subscribe and share.  Offer treats for doing so.
E-NCOURAGE: Go encourage someone else today with a single, simple sentence of affirmation.  Tell them, "I like your earrings", unless of course they are manly men, in which case you should compliment them on the size of their chainsaw.
C-OMMENT: I want to hear from you.  Please feel free to comment below!  Comments with lots of "You're wonderful" or "You're the best" will receive instant approval and acclaim.
Need a voiceover?  Request a quote today or visit my Demo Reel. Or subscribe.  Or do other things.
Joshua Alexander
The Voices In My Head Blog
blog@itsthevoicesinmyhead.com ∙ josh@supervoiceover.com
360.339.1900