We Wantsss It. We Needsss it. Must Have The Preciousss.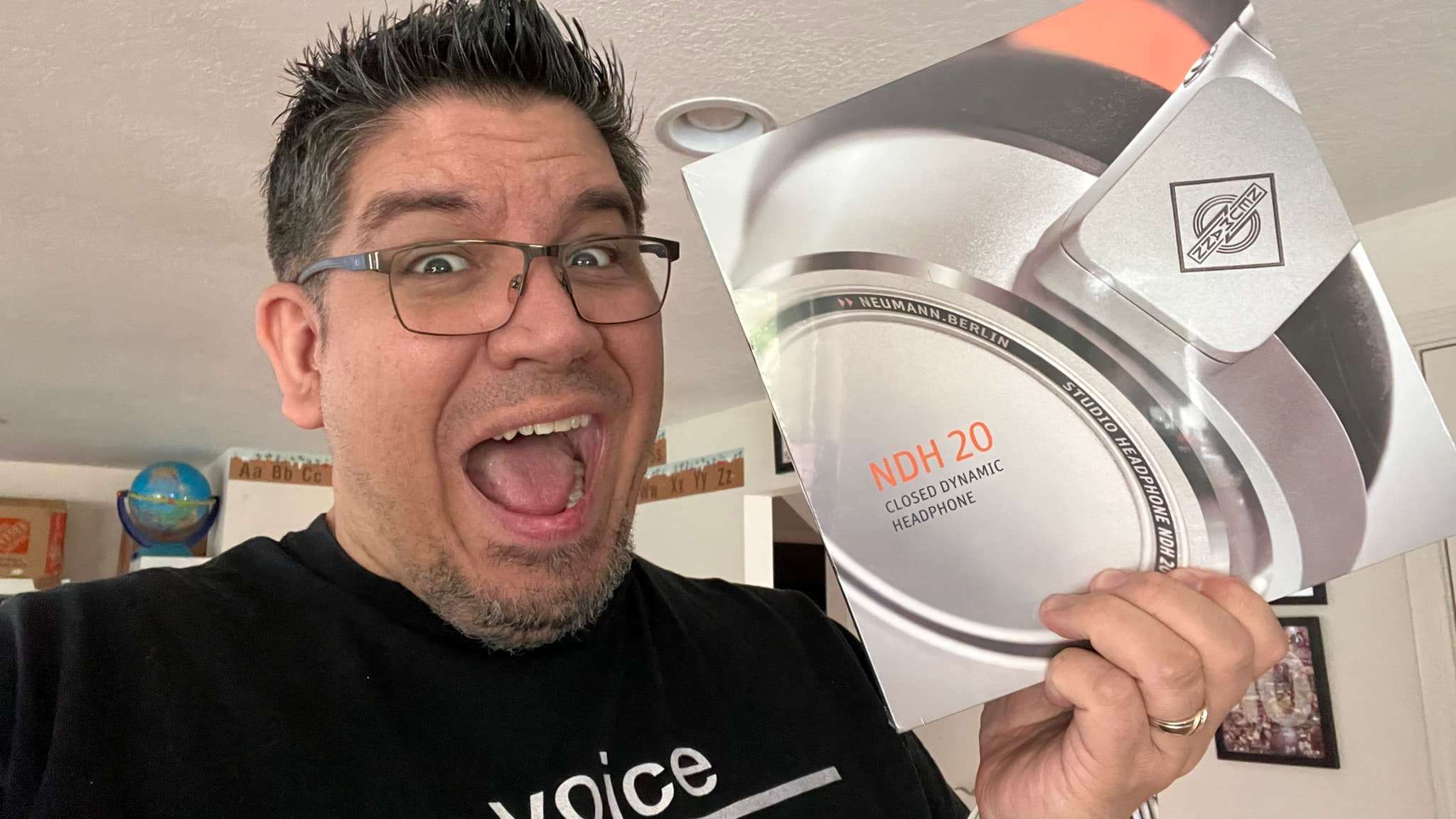 Note: headphones are not actual size.
A Pair Of New Shiny Cans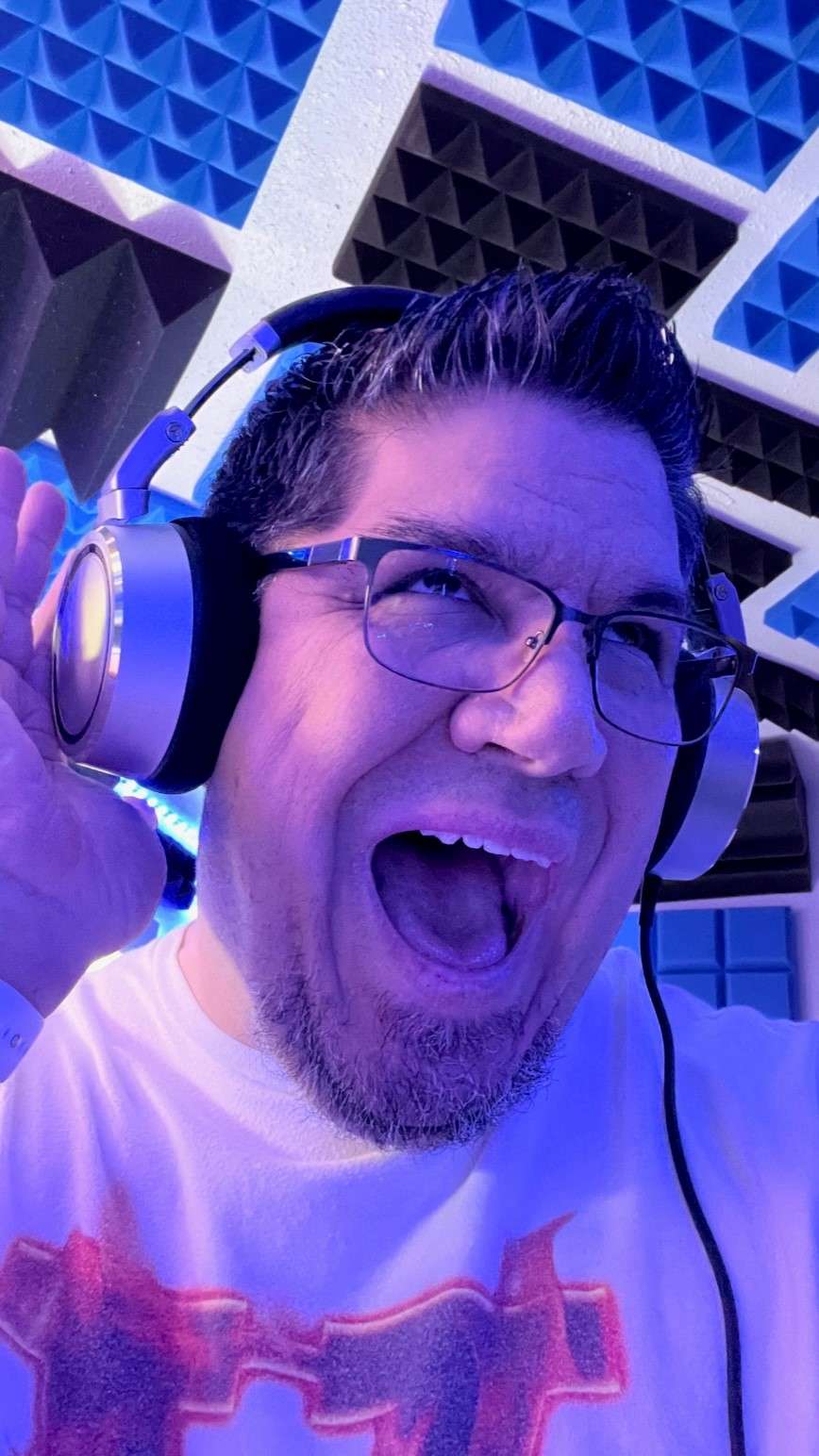 I am not often one to buy things on impulse.
Let me start over.
I am often one to buy things on impulse.
I am not talking about things like Lamborghinis (add to cart), vacation homes in Vail (just signed) or premier trips to outer space (first class ticket reserved), but rather, things like new shiny headphones simply because someone else got them.  This is otherwise known as Shiny Object Syndrome, of which the acronym is coincidentally, S.O.S.  This is a phenomenon where men walk down the street with their wives, they instantly spot a more attractive female coated head-to-toe in shiny tinfoil, and are busted and suckerpunched by their own spouses, which results in a shiner.
I am actually referring to a recent example concerning Cliff Zellman's and Bev Standing's (and now Josh Alexander's) newly-acquired Neumann NDH20 closed dynamic headphones.  I bought them, sight unseen, after hearing Cliff, in particular, rave about them, approaching the point of tears for having been given a pair at VO Atlanta, and having been chosen to be a brand ambassador of sorts, to promote them, and now, to be mentioned, in a paragraph, containing an inordinate amount, of, commas.
It is a problem, and I need help. Impulsive spending, not, the, use, of, commas,
Was I dissatisfied with my current headphones, which are Sennheiser HD 280 Pros?  Or was I in the market for new headphones?  More or less.  Kind of.  Not really.  Actually, no.
My headphones were fine, but ultimately - Father, forgive me - I confess that I fell prey to lust when Cliff Zellman dangled them in front of me.  Wow Factor = enabled.  Also, Father, forgive me for punching Cliff in the nose and stealing them.  And I repent from knocking that old lady down as Cliff pursued me through the hotel.  Also I put gum under my seat on the flight home, Father.
O the packaging!  O the giant silver cups emblazoned in stunning imagery that made me drunk with desire! (For Cliff; not the headphones.)  O the avarice that consumed me!
Used by permission.  Matt Buckner (L) from Sennheiser/Neumann and Cliff Zellman (R), 4/4/22.
Sometimes when something catches my eye, I simply must have it.  Do you experience this? There have been instances in my life where I have made impulsive purchases:
The first iPad. I assured my then-future wife that I would need it for business.  I then proceeded to show her "Angry Birds".  Her reply, as I recall, was: "Yeah, you needed this for business."
My 2021 Nissan Rogue. I admit that this was not a necessity per se; however, continuous riding in a soccer mom minivan having depleted my masculinity reserves, you could say I was itching for something macho.  As we all know, SPORTY SUV'S ARE THE MACHOEST OF MACHO.  They are 2nd on the list after taking bubble baths with Kenny G music.
Every single iPhone from every year across all time ever. But let us be honest.  Wouldn't my original iPhone still be working fine 15 years later?  Answer?  I do not like this question.
A second Sennheiser MKH416 microphone for my travel rig, because backups are always good to have, and it is nice to own things, and spending is cool, and you know it.
The Neumann TLM 103 Anniversary Edition microphone.   I love anniversaries.  They are very special, and they are something to be celebrated.  I deserved something special, and because it had the word "anniversary" in it, I was positive my wife would approve, and that is precisely what I told myself as I entered my credit card number.
Now, I know we voice talent all have stock in Sweetwater.  I get it.  I just think it may be time for a bit of a confession: I do have a bit of a spending problem.
It is true.  Before me always seem to appear two hallways:
one, illuminated with white light, a soft voice of reason gently beckoning me to choose morality, to follow the upright path, and to avoid the siren call of covetousness.
and another, dimly lit by a flickering and eerie pale blue glow, images of sickly consumers in Armani suits chained to the wall in their own urine, moaning to me, reaching out bony hands and gaping maws, beckoning me to join their blind and salivating imprisonment to consumerism.
I really do love the color blue.
I actually hate to shop
I am not fond of shopping. Especially Clothes Shopping, which is Swahili for Thing That Should Not Exist.  Even typing "clothes shopping" just now: I experienced a pain I could not locate.
Case in point, I recently had a nightmare, which is an occurrence that usually takes place after one has attended an Amway presentation.  This time, the nightmare was yet again about clothes shopping.  I am not kidding.  I am comforted by the fact that this is the most common type of nightmare experienced by all human males.  In my nightmare, I was struggling to find a QR code to purchase three dress suits picked out by my 6-year-old, no one would help me, and I really had to go, or I would be late for a directed session.  There are a few conundrums with this nightmare that still puzzle me:
Why my 6-year-old is already picking out dress suits to wear.
Why I was doing any shopping of any kind in any store at any time whatsoever.
QR codes, as we know, are everywhere, and the fact that I could not find one only serves to further prove that I, like all men, am seemingly incapable of asking for directions.
I have, to date, never attended a directed session in my sleep. However, I am now considering patenting "DreamConnect Pro", and am seeking investors.
But, when offered the choice between:
Clothes Shopping With Our Wives, and
Being Strapped Naked To A Tree In The Baking Sun While Having 20,000 Fire Ants Unleashed Across Our Bodies While Being Forced To Listen To Baby Shark On A Loop
…this is what is commonly known as a no-brainer.  Fire ants, please!  Because, as you may or may not know, clothes shopping is an activity that is designed to not ever have any form of terminus or conclusion, serving only to encourage profanity when opening the mailbox and seeing your wife's credit card bill.  This is why I have taken the effective measure of chopping up my wife's credit cards, and then taking great pains to remind her to be grateful that I chopped them up.
In my case, I use the Synchrony Bank Amazon credit card, because doing so enables me to accrue points towards purchases.  This month I had accumulated $159.37 in rewards points (see Lamborghini, vacation home and space trips) and so my beautiful shiny new $499+tax headphones only cost me $379.55.
For the record, anytime I experience a massive outflow of funds, I truthfully become a bit antsy.  Take our recent studio buildout, for example: very expensive.  Or the taxes I just paid to the federal government: comically ridiculous.  When such outflows happen, it makes me admittedly a bit jittery: I am not sure whether the rush of emotions I experience at the substantial financial outflow is due to being drunk with spending power, or nervousness that my bank balance is once again dipping below $25.50.
Pretty sure it is the latter.  Also now I know why I am always nervous.
Wants vs. Needs
Long ago, I needed my MKH416 microphone if I wanted to sound good and be competitive.  It was not just a want.  Well, OK, it was a need and a want, much like how if I do not get enough sleep that I need, then I will want to kill someone slowly with a turkey baster.  And, I need to not kill you with a turkey baster, because I do not want to go back to prison.
I am sure you have heard about the difference between wants and needs. You see, "wants" involve desiring something I do not need, whereas "needs" involve something I will perish without, such as Scarlet Johansson.
Some expenses might be wants; others might be needs.  If you spend all your money on wants, you may not have enough for needs.  It boils down to good management.
Good is always the worst enemy of best.  Chew on that for a while.  We are all capable of being Gollum, slave to the precious, and being filled with lust for something, like Scarlet Johansson.  Some expenses might be good, and some expenses are best, and a wise man knows which is which.  Wisdom is a quality one gets when one finally, officially decides that it would be best to mow the lawn now that it is blocking all pilots' views of the runway.
I have never professed to be wise.  Sometimes I faint from sheer excitement at an upcoming nee- er, want, like Scarlet Johansson.
Oh look, a Lamborghini in blue!  And it comes with an audio port for my NDH20's?!?!?!  I NEEEEEEEEEEEEEEEEEEEEEEEEEED IT!!!!!
*thud*
=============
PPS, I stand with Ukraine.  Do you?

=============
YOU HAVE MADE IT ALL THE WAY TO THE END, AND I SALUTE YOU.
Like this blog?  My children are counting on you to put bread on our table through the purchase of one of my books.  Do it for the children.
If you would prefer not to purchase one of my books but instead hurl large bundles wads at me, please know that I do not refuse large cash gifts if it means I can pretend I am a church
Check out my whole UNIVERSE of blogs right HERE!
This is a fourth bullet point.
AND HEY!  WAIT JUST A S.E.C.!
S-UBSCRIBE & S-HARE!: If you enjoyed this blog, please consider subscribing and sharing with friends and family, and encouraging them to subscribe and share.  Offer treats for doing so.
E-NCOURAGE: Go encourage someone else today with a single, simple sentence of affirmation.  Tell them, "I like your earrings", unless of course they are manly men, in which case you should compliment them on the size of their chainsaw.
C-OMMENT: I want to hear from you.  Please feel free to comment below!  Comments with lots of "You're wonderful" or "You're the best" will receive instant approval and acclaim.
Need a voiceover?  Request a quote today or visit my Demo Reel. Or subscribe.  Or do other things.
Joshua Alexander
Seattle Voice Actor & Voiceover Artist for hire
josh@supervoiceover.com
360.339.1900