It's Two Years Later.  Did You Survive?
Used by permission from cromaconceptovisual via Pixabay
Controversial Topic: ENGAGED
Used by permission from Joelstuff V4 via Creative Commons
It was a mad world, just like Gary Jules said.
Nearly two years ago today, toilet paper was flying off the shelves.  It was a hot mess of steaming crap. Hysteria abounded.  Fear and panic were widespread.  Isolation and loneliness were rampant.  Dogs and cats were living together.  Tom Hanks got the virus and was once again stranded on an island with Wilson.  Voiceover artists everywhere were mercilessly commanded to repeatedly utter phrases such as "In these unprecedented times" and "We're all in this together" by vicious taskmaster directors who love to cast us and pay our bills - so that was mean what I said; please cancel that.
People were spraying their dates with Lysol because they needed to social distance, but that would usually land them in jail, which would put them in close proximity to big hairy cellmates, which more or less was the opposite of what they were wanting to happen.
This virus was here to stay.
In those troubling times of uncertainty and doubt (which means uncertainty), back on March 23rd 2020 I presented to you this same blog title containing some tried and true methods for weathering the storm, necessitating the use of neither toilet paper nor hand sanitizer.
So how did you do?  Let us review, shall we?  Here we go.  A reminder that I am a dynamic figure, so please remember to stand 6 feet away from this blog while reading it, lest you catch the personavirus.
Pass the Corona!
Used by permission from j_souhail via Creative Commons
Back then I presented the following virus-proof activities atchoo (Gesundheit!) to ward off any strain whatsoever, and keep you sane.  In retrospect, looking back (which means "in retrospect"), how did you do with the following:
Whisk yourself away from this maddening situation (and malls, airports, movie theaters, restaurants, streets, sidewalks, gatherings of 10 people or more, Earth), and record the following voiceover in true quarantine spirit in all 6500 spoken languages: "There's no place like home. There's no place like home.  There's no place like home."  Bonus if you do it in ruby slippers.
Perfect the art of the 20-second hand-washing technique. I predict that there will be contests on the cleanest hands, and that the winner will be awarded the Grand Prize of meeting Tony Shaloub's "Monk" in the year 2391, when he finally gives us the go-ahead that it's safe to elbow bump people once again.
Got a mate? Stay indoors, reproduce, and in 9 months we'll see a baby boom, and we'll call them coronials.  And just think!  By the time we hit the year 2033, we'll have Quaranteenagers!  Curious - any new VO quarantine babies out there?
Show the world how you're truly the best at triple-quarantining! Share pictures of yourself quarantined in a Hazmat suit, which is quarantined in your studio, which is quarantined in your home.  Ain't no virus gettin' you in there, no sirreebob.  Extra points for those of you who are able to fit yourselves in a giant Ziploc bag.
Times like these were precisely what the following movie marathons were made for:
ALL NINE (OK, all six...OK OK all three) Star Wars
Lord of the Rings
Indiana Jones
Lethal Weapon
Harry Potter
Jurassic Park
John Wick
The Alien Quadrilogy
Superman
Back to the Future
The Godfather
John Wick
Toy Story
The Matrix (note: Reloaded and Revolutions are entirely optional, being that they are entirely punishing)
Planet of the Apes (old)
Planet of the Apes (new)
I am Legend three times in a row, but turn the volume way down at night before the zombies hear you. Also prepare to strangle your dog.
John Wick (because, you know, anger...)
Make your own hand sanitizer. I suggest a strong combination of alcohol, alcohol, and alcohol.  This way, the hand sanitizer is good at killing germs as well as providing a good ol' time.
Make your own masks out of napkins and coat hangers. Sell them at 800% markup (you'll need money to buy toilet paper at $300 a roll) to passersby who approach your Kool-aid stand.  Sell Kool-aid as well, lest you receive a negative Yelp review for false advertising.  Receive payment via money flung at you from a safe distance.  Spray Windex on received monies with a cleaning fury that would rival Martha Stewart.  Prison time optional.
See who can watch the map-of-countries-affected on Cable TV News in real time, and see who points first to the most recent country to fall. Fun for the whole family!
If you have kids and you're working from home, practice the following phrase over and over again. "If they don't resume school soon, I'm going to strangle you."  Muster your best demonic underworld voice when saying this, to ensure future obedience driven by raw, cold fear.
Download Duolingo. Learn every single foreign language you can.  By the time this pandemic passes you by, you'll be C-3PO, fluent in over six million forms of communication!  Gold star for you if you wear chrome and always complain.
Honorable Mention #1: Watch Tangled over and over again, and suddenly your own quarantine will not look so bad.  That poor girl was trapped inside for eight... teen... years... doing ventriloquy, candle-making, papier-mâché, adding a new painting to her gallery, and talking to a lizard.  Good times.
Honorable Mention #2: Practice your best victory monologue while gripping a Corona beer fiercely, glaring and pointing at it while screaming, "Thou shalt never win this war!  I shall defeat thee, Foul Plague Of The Underworld!  Stand and face thou thy Judgment, for thy judgment verily henceforth cometh!"  Prepare to field questions from concerned neighbors.
I hope you passed the test with these and other ingeniously concocted homemade remedies, and I hope that you are still sane.  If you survived the worst of the pandemic, then you will survive the following one, which is when the next deadly microscopic organism attacks our hair and our temples, causing the CDC to prescribe a new mask mandate, at which point we will all take our cues from these fine folks:
Almost There...Almost There...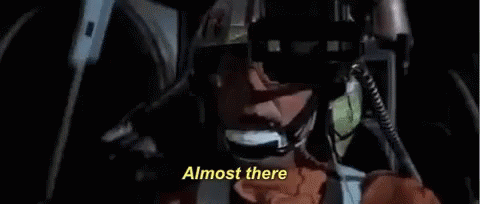 The truth is that Covid-19 will eventually reach 'endemic' stage.  This is the point in time where we, as humanity, breathe a collective sigh of relief as we look up the word 'endemic.'  It is also where the virus says, "Haha, you thought you would outlast me but look! I'm here to stay, and I'll always be a thorn in your side, like news articles about Caitlyn Jenner and songs by Hanson."
In 2022, looking back, I think we did pretty well.  The pandemic is almost over.  Masks are no longer required everywhere.  Since the CDC's latest directive, my wife and I now feel comfortable taking them off in the shower, and all of my clients have echoed resounding thanks that my recordings sound so much less muffled than before.  Truly, the only thing we have to worry about now is Omicron daughter variants...followed closely by son variants, family-dog variants and one-time-room-renter variants.  After that, it's just global thermonuclear war with Russia!  Thank God for simpler times.  Cue the WOPR: "Shall we play a game?"
Seriously though: keep staying safe, healthy and well out there, my previously-quarantined-hibernating-voiceover-bear-peeps.  We already knew how to social distance: we do that for a living.  I hope this little bit of levity brightened your day in the midst of reflecting on mass hysteria, rampant hoarding of posterior grooming towelettes, and pervasive fear of all things microscopic.
Used by permission from geralt via Pixabay
=============
PS, something really good came out of the pandemic, and that was when voiceover artists the world over rallied together for a video I created, entitled 'Heroes Are You."  If you have not seen it, check it out below:
=============
PPS, I stand with Ukraine.  Do you?

=============
YOU HAVE MADE IT ALL THE WAY TO THE END, AND I SALUTE YOU.
Like this blog?  My children are counting on you to put bread on our table through the purchase of one of my books.  Do it for the children.
If you would prefer not to purchase one of my books but instead hurl large bundles wads at me, please know that I do not refuse large cash gifts if it means I can pretend I am a church
Check out my whole UNIVERSE of blogs right HERE!
This is a fourth bullet point.
AND HEY!  WAIT JUST A S.E.C.!
S-UBSCRIBE & S-HARE!: If you enjoyed this blog, please consider subscribing and sharing with friends and family, and encouraging them to subscribe and share.  Offer treats for doing so.
E-NCOURAGE: Go encourage someone else today with a single, simple sentence of affirmation.  Tell them, "I like your earrings", unless of course they are manly men, in which case you should compliment them on the size of their chainsaw.
C-OMMENT: I want to hear from you.  Please feel free to comment below!  Comments with lots of "You're wonderful" or "You're the best" will receive instant approval and acclaim.
Need a voiceover?  Request a quote today or visit my Demo Reel. Or subscribe.  Or do other things.
Joshua Alexander
Seattle Voice Actor & Voiceover Artist for hire
josh@supervoiceover.com
360.339.1900