I Humbly Present: BubbyTown Studios!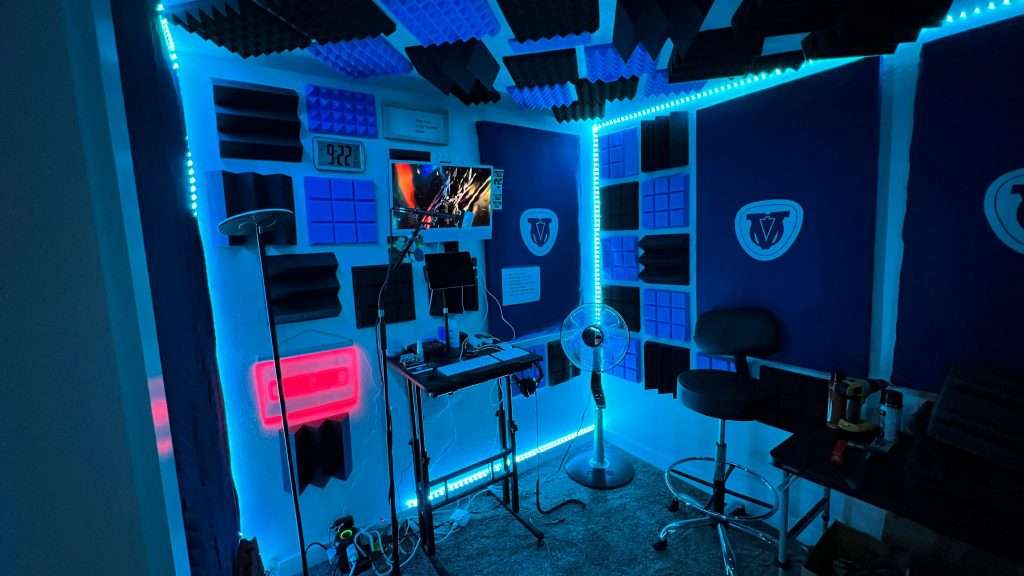 Downgrades, Upgrades, Sidegrades and Othergrades
It isn't that I did not utterly love my StudioBricks.  I did.  And it isn't that I did not utterly love my corner booth before that.  I did.  And it isn't that I did not utterly love my acoustically treated sliding door closet booth before that.  I did!
OK I actually did NOT like that last one.  The only nice thing was that if I felt like changing clothes into something more saucy while I was in there, I was in the right place to do so.
You must understand, here and now, that I am what is commonly referred to as "fun-sized."  I am not in any way svelte, lithe, lissome (thank you Shift-F7), or slender as a willow-wand.  Fun-sized.  This generally means that I will not fit inside your Winnebago without first deflating for 45 minutes.
When I finally ordered my StudioBricks in 2019, and obtained it in August of that year, I was walking on Cloud 9.  (Cloud 8 was down for maintenance).  It was such a graduation from my former studio, which was a corner booth with even less room than my StudioBricks, and when you shut the door, if you are a human, you can effectively bid oxygen adieu.  The reason for this is that soundproof generally equals oxygen-proof.  As a bona fide working Voice Talent, I find this to be a bit of a conundrum, because I was always led to believe that we humans required oxygen to generate vocal sound.  Be that as it may, I provided the very best voiceovers I possibly could in the environment I was given, and they were the very best and quietest voiceovers you ever heard, right before I passed out and hit the studio floor with a thud.  Luckily the door would crack open with my fall, my arm would flop out, my wife would notice, the ambulance would come, and I would be supplied...
...oxygen.
Since I have always been fairly opposed to any form of asphyxiation, I made the incredibly bearable decision to upgrade.  Oh!  And also because God saw fit to provide us with another child that year, rendering the room that my little corner booth was constructed in completely and entirely unusable.  One does not record screaming character and animation works while one's infant is napping just outside the booth door.  Infants must always sleep, you see, or there will be SUFFERING by parents, which leads us back once again to OXYGEN LOSS and AMBULANCES.
A New Day Has Come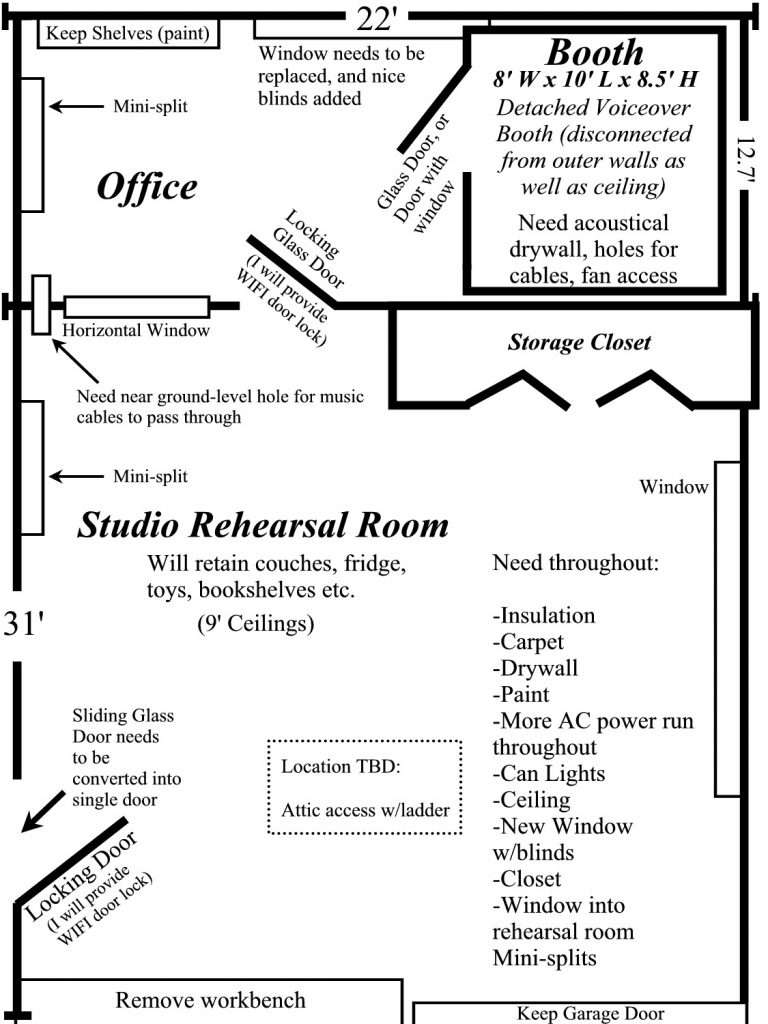 Just like Celine Dion sings: A New Day Has Come!  And that's the way it is, because my heart will go on.  Oh wait - it's all coming back, it's all coming back to me now:
When we moved into our new home in August of 2020, there was an 880 square foot shop in the backyard.  It was populated by tractors, lawnmowers, and other things that do things.  Not being someone who does things to other things, I realized instantly (OK, after 14 months of living there) that this was to be my studio, and not simply a storage space for things, unless you are including spare oxygen tanks.  We were initially going to perhaps convert the shop into an ADU, which I am told stands for something, in order to house my mom when the time came for her to move back to Washington.  However, in short order I found out this was AGAINST THE RULES.  The HOA, which I am told stands for something else, WOULD NOT ALLOW THIS.  I was therefore forced to rethink my plans, which, being deprived of oxygen, is a very hard thing to do, and would presumably take me another 14 months.
One thing I did know, however, was that my office, with my studio in it, seemed to be growing smaller by the minute.  My office in Shoreline was about 700 square feet and very long, with a beautiful plush red carpet.  My office in Lynnwood was reduced to about 400 square feet.  My office in our current home was reduced to about 250 square feet, with only 7'7" ceilings: my StudioBricks barely cleared it at 7'4".  I would like to remind you once again that I am fun-sized.  I think you can see the issue at hand.  You can't?  Ah!  Let me move all of myself out of the way so you can see the issue at hand.  There it is!
So...that was that.  Since we were NOT ALLOWED to do the ADU, and since I was becoming more and more fun-sized, the time had come to convert the shop...into something glorious.
There would be moments of gold, and there would be flashes of light.  There would be things I'd never do again but then they'd always seem right.  There would be nights of endless pleasure.  It would be more than any laws allow...
A Labor Of Love
On November 29th, 2021, my contractor, Jon, commenced work on the shop, converting it into a playroom and new office/studio, based on incredibly awesome plans that I had concocted, and also because I have not yet used the word "concocted" in any of my blogs.
It was an incredible journey!  First we needed to get building permits for the remodel on the shop, which we would soon discover did not have any permits at all and was therefore illegal.  Because the building was essentially unpermitted and the permitting office had no knowledge of its existence and it was essentially illegal, this is why I fled to Azerbaijan, because I was hiding out until the arrest warrants eventually expired.  (I am of the understanding that arrest warrants eventually expire when you stick all the serving officers in oxygen-proof studios.  Oh!  The officers expire too.  So I will need to rethink things, and will get back to you in 14 months.  Please do not visit my studio before then; I will need to relocate some police officers.)
Anyway.
We got the permits to make our shop appear in The Government Systems Containing Records Of All Shops Everywhere, and then we got the new permits for the remodel plan, and we were underway!  It was at this point that I returned from the Middle East in my tunic.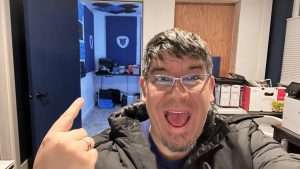 And finally, on January 22nd, 2022, just 54 short days later, I would record my first auditions in my new booth, complete with messy hair and lounge pants at 5am.  I was in a brand new environment, and boy oh boy was it beautifully done!  I watched the entire process from start to finish, and I think back to the way the shop used to be: too cold (or too hot), messy and unkempt, with - I am not kidding - chipmunks, field mice and bats occasionally making their home here (it is situated next to a pasture, after all).  Check out this pic of what it used to look like: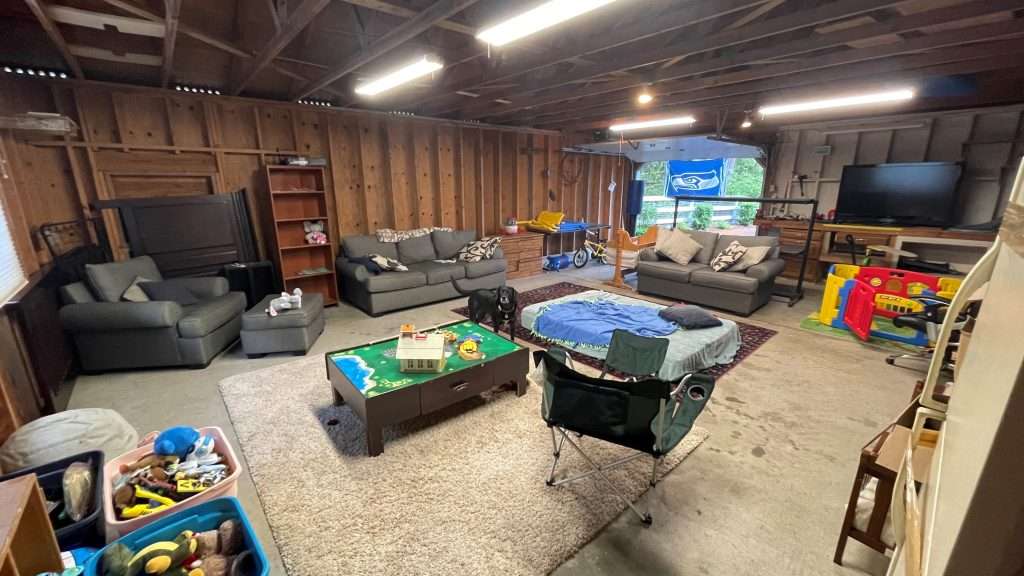 I cannot believe how good it looks now.  And how functional!  I have 750Mbps download speeds and 16Mbps upload speeds thanks to two Cat6 Ethernet cables running from the router in the house through 60 feet of conduit buried in the backyard leading to the shop, along with power cables running from the breaker, which provide all the power I need.  If that fails, I have the backup plutonium I obtained while in Azerbaijan.
I have dimmable light switches, a mini-fridge, two mini-splits for heating & cooling, beautiful blue LED lighting, luxury vinyl plank floors, a wall-mounted ultrawide monitor, a wall-mounted VESA-compatible iMac, a carpeted booth, and a solid-core door.
If I haven't arrived before now, then I have certainly now arrived.
On the note of security, since it is a detached structure, I have 7 Frontpoint door/window sensors, 3 Frontpoint glass break sensors, 3 Frontpoint motion detectors, 1 Nest Protect, 2 Nest Security Cameras, and 2 August WIFI door locks, all with notifications on use.  However, me being one for security, we will soon be adding Rottweilers, Terminator Hunter-Killer drones circling overhead, land mines, laser fences, lightning sand, flame spurts, and R.O.U.S.'s.  Heck, it is not a corner booth anymore, right?.  A man's gotta take precautions, and with a name like BubbyTown Studios, I have a reputation to uphold.  If anyone can get past all that security, just remember: I am still fun-sized, and I will sit on you if you try to attempt anything fishy.
To all of you who followed the BubbyTown journey, thank you!  I am loving my new studio.
Oh...and why "BubbyTown", you ask?  The kids, our "Bubbies."  It's always about the kids, right?
Here's the long version of how a studio was born:
PS!  I was only able to accomplish all of this because I have had some incredibly record-breaking years in voiceover, and I treat my voiceovers like a business.  On February 19th I will be hosting my next "From Hobby To Enterprise" workshop for $59.  I hope to see you there!  Check it out at and register at this link.
=============
YOU HAVE MADE IT ALL THE WAY TO THE END, AND I SALUTE YOU.
Like this blog?  My children are counting on you to put bread on our table through the purchase of one of my books.  Do it for the children.
NOTE: This blog is purely for commentary / educational / entertainment purposes.  I am looking at YOU, PicRights & Higbee.  I make no money from these blogs; though I do not refuse large cash gifts if it means I can pretend I am a church
Check out my whole UNIVERSE of blogs right HERE!
This is a fourth bullet point.
AND HEY!  WAIT JUST A S.E.C.!
S-UBSCRIBE & S-HARE!: If you enjoyed this blog, please consider subscribing and sharing with friends and family, and encouraging them to subscribe and share.  Offer treats for doing so.
E-NCOURAGE: Go encourage someone else today with a single, simple sentence of affirmation.  Tell them, "I like your earrings", unless of course they are manly men, in which case you should compliment them on the size of their chainsaw.
C-OMMENT: I want to hear from you.  Please feel free to comment below!  Comments with lots of "You're wonderful" or "You're the best" will receive instant approval and acclaim.
Need a voiceover?  Request a quote today or visit my Demo Reel. Or subscribe.  Or do other things.
Joshua Alexander
Seattle Voice Actor & Voiceover Artist for hire
josh@supervoiceover.com
206.557.6690