It's here!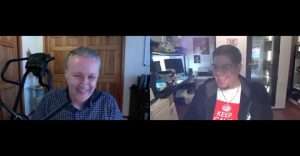 The still frame says it all - he and I smile a lot together. 
Check out my recent interviews with my beloved coach, the illustrious Scott W. Burns!! We had a ball as usual. Check 'em out and give Scott a call or email for coaching or demo production.
If you're looking for a voiceover coach or demo producer, I cannot recommend Scott Burns more highly.  Scott is a wonderful mammal and a generous soul.
May you get a great bunch of smiles from my interview with this wonderful chap!
=============
HEY.  WAIT JUST A S.E.C.!
S-UBSCRIBE & S-HARE!: If you enjoyed this blog, please consider subscribing and sharing with friends and family, and encouraging them to subscribe and share.  Offer treats for doing so.
E-NCOURAGE: Go encourage someone else today with a single, simple sentence of affirmation.  Tell them, "I like your earrings", unless of course they are manly men, in which case you should compliment them on the size of their chainsaw.
C-OMMENT: I want to hear from you.  Please feel free to comment below!  Comments with lots of "You're wonderful" or "You're the best" will receive instant approval and acclaim.
Need a voiceover?  Request a quote today or visit my Demo Reel. Or subscribe.  Or other things.
Joshua Alexander
Seattle Voice Actor & Voiceover Talent for hire
[email protected]
206.557.6690
www.saysomethingjosh.com
www.joshyface.com
www.joshygram.com
www.joshypin.com
www.joshylinked.com
www.joshytweet.com
www.joshyvids.com