(In a good way)
My Ramble Preamble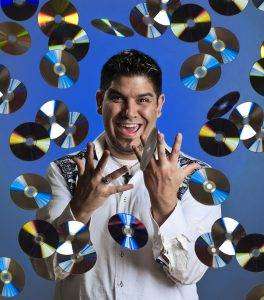 So here's the big news you've all been waiting for!  (You were waiting, right?)  I'm writing a book on a career in Voiceovers.  It's about how they have rocked my world and changed my life.  It's from a business perspective, and it contains all kinds of tips and insights.  Because, let's face it: you haven't heard everything already.  Admit it.  You want more.  Kind of like that listless, staring-blankly-up-at-the-stars-late-at-night-and-wondering-where-the-hell-is-my-ceiling type of wanting more.
But what can I say that hasn't already been said?  Let me try. "I hesitate to articulate for fear that I might deviate from the proper course of rectitude, but a veritable approximation of the quotient of exultation might be indefatigable."  How's that?  Does that work?
When I'm following in the footsteps of people like Marc Cashman…and Bill DeWees…and Dave Courvoisier…and Tom Dheere…and especially Paul Strikwerda (Hi Mr. Yellow Shoes!), I don't know what I can truthfully add to the choir of voices that hasn't already been mentioned somewhere along the line.  But I'm sure going to try.  After all, I'm a try-er.  Especially of patience.  Ask my wife.  I have never really played by the rules.  I don't like rules.  See?  That's me driving over there on the other side of the highway with the crap-eating grin on my face.  Wave!  Wave at the nice men with the handcuffs driving right behind me!  Such nice men with handcuffs.
I tend to buck the establishment and try the Kobiyashi Maru approach.  I'm unconventional that way, and thus, may seem controversial at times.  I'm OK with it.  My motto in business has always been "adapt and overcome."  Case in point, in 2007 I was besieged by a Craigslist flagger who decided to for whatever reason single out my media production ads and flag them off.  This was prior to Craigslist revamping their flagging policies.  This continued from January 1st through March.  At that point it prompted me to create a brand new alternative website for the very same services I was providing…and thus I created different ads…and thus the flagger didn't even know those ads were mine…and thus he left me alone…and thus I said "thus" a lot.  Adapt and overcome.  The sad truth is that his email address (we engaged in delightfully angry dialogue after he intentionally reached out to lecture me about my postings)….was flaggercl@gmail.com.  If your identity is wrapped up in flagging, then one of us is not the problem here.  So I hope you get well soon, Mr. Pathetic Identity Loser Flagger Guy.
So!  If we haven't connected yet on social media, who am I?  I'm Joshua Alexander, a 46-year-old who's been doing voiceovers off and on since 1993, and full time since 2007.  I only recently made the jump to doing voiceovers as a service unto itself in 2016.  Up until that point I had been (and still am) a successful multimedia businessman running five different companies from the comfort of his own home.  I've been very successful in multimedia and voiceovers, and that success is what motivates me to write.  I blog prolifically, and my writings can be found in LinkedIn articles, on Medium.com, on Facebook, and wherever else they're floating around the ether of the Interwebs.  Voiceovers are my heart's desire (that and Bottle Caps candy – oh yeah ooops: and my wife and kids too) and, as such, it was my heart's desire to write more about them.  I love blogging and writing: it's my goal to be the Dave Barry of voiceover bloggers and authors, offering good quality satire and lightening the load.
OK…but, again….Joshua who?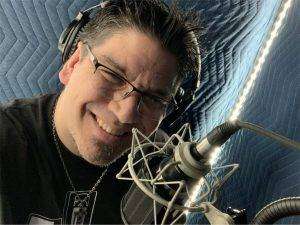 The author of this book has been:
a telemarketer
a Dairy Queen clerk
an office manager
an administrative assistant
an audio editor
a dispatcher
a Christian singer & speaker
a Jack in the Box worker
a paperboy
a corporate and wedding videographer
a service manager
a paperboy again
a voice talent
an artist
a poet
a business owner
a blogger
a graphic and web designer, and
a dancer.
I dropped dancing many years and many pounds ago when it became painfully obvious that I was about as graceful as a drunken lumbering Brachiosaurus traversing a field of marbles and Vaseline.  I humbly acknowledge that God has given me some indisputable gifts.  Dancing is not one of them.  Using mental telepathy on stoplights is.  I am deeply grateful and operate out of a profound sense of gratitude every day because of my gifts.  You'll hear that as a frequent refrain throughout my book.  I've had a lot of experience in a lot of areas since entering the workforce in 1988.  I've worked at probably thirty different jobs.  None of them will remember me, because I was the guy who wanted to be somewhere else.  Who was bound to be somewhere else. Who was actually somewhere else sometimes, and that's why I was politely asked never to return there.  It was destined for me to do my own thing.
This book is a compendium of everything I've learned in business to make me successful as a voice talent, and everything I employ today to make – and keep – me successful.  And I have indeed been successful, having, at the time of this writing, generated nearly $1.9 million dollars in overall business since 2003, and nearly $200,000 in specific voiceover self-employment since 2017 alone.  In July of this year, I made more money in voiceovers than in all other media production pursuits combined!  I made $15,387.07….and all with no overhead!  See?  There's another way I'm unconventional; people say don't quote numbers, or where's the shame?  I myself say, there are people who want to know, and need to be encouraged that you can actually make a tremendous income in this industry.
My highest week was just this past week: I had 18 different types of voiceover jobs, between direct jobs, repeat customers, P2P jobs, and pickups.  Eighteen.  In one week.  That's insane!  It's been a slow ramp up, but for the first time ever, I'm closing in on six figures in a single year in voiceovers.  That gets me very, very excited.  That and lobster.  In fact the only thing that remains is to record voiceovers while eating lobster, at which point I will surely die from ecstasy.  Not that ecstasy.  The other one.
I am passionate about life, and I am passionate about voiceovers.  In essence, they've nothing short of rescued me from being trapped in a career I loathed.  I was performing wedding videography, which is the same as floating in a pot of boiling acid and being forced to listen to only Michael Bolton on a punishing loop in a place where there is no cell service.  Voiceovers have also saved me from the 9 to 5 doldrums, and ratcheted up my confidence and drive to succeed.   Nothing has ever motivated me like voiceovers have, and it's to the point where I loathe Friday afternoons (because the workweek is ending) and I am leg-shakingly excited on Sunday evenings (because the workweek is about to start).  In fact, if you hover over me when I'm sleeping, and say the word "voiceovers", I'm sure to wake up with a jubilant thrill!  Several people have been arrested trying: it's been entertaining!  Such nice men with handcuffs.
What I love about self-employment is that it's mine.  No one can take it from me.  I rise and fall on my own merits, and whether or not I succeed is completely up to me, not my employer's paycheck.  I am pursuing my dreams, not my employer's.  That, to me, is something I will never willingly trade, and you'd have to pry from my cold, dead, microphone-gripping hands.
Yea Verily - The Book Cometh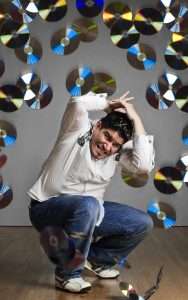 It's my hope that the book I'm writing is filled to the brim with new and exciting material, and of course great humor.  But in truth, I can only draw upon those who have gone before me, and couple that with the very best of what I know.  So do me a favor and pretend to be excited if you hear something that's been heard before, as I promise to Thesaurus it up to give it a fresh spin for you, and try to perhaps make it a little more memorable.  It is with great deference and respect that I undertake to write about voiceovers and share it with you, because I'm treading on sacred ground of learning, and in that sacred process, yea verily, the student becometh the teacher.  Am I qualified to speak on voiceovers, and running a voiceover business?  My numbers don't lie: the truth is yes.  But I will go forth humbly, and with great cognizance that the ones who went before me equipped me to write the very book I'm writing, and I draw upon them in the sharing, with great respect.
The last thing I would say in terms of a bit of a disclaimer is that this book is written from my perspective.  It is what has worked for me; it may not necessarily work for you.  In fact, it's guaranteed to not work for many people, because no one is quite like me (can I hear an amen?), and no one has the same makeup that I do.  I operate how I operate, and have perfected my approach to a code of conduct that works for my own makeup, which is a lovely shade of rouge, with thick mascara, enabling me to bat my eyes at you and make you, in the words of Antonio Banderas, es-swoon.
It's the Love Train
Voiceovers is an industry that has drastically changed and been upended.  Some say in a bad way, some say in a good way.  And even more say in a weird way.  With the advent of the Internet, home studios have sprung up in every corner of the planet, and everyone is a voiceover artist.  It is very, very easy industry to enter…and a very difficult industry to get right…unless you have direction and are highly committed to your dream.  Everyone wants to hop on board the Love Train.
Many years ago, if you were a voice talent, you'd get a call from your agent who would say to you "Can you get in here right now, I have the role of a lifetime!"  So you'd drop everything, throw on (off?) your jammies, drive to the studio, record the audition, return home…and then wait.  Ultimately, if you get the job, then you'd have to throw off (on?) your jammies, drive back out to the studio, record your part(s), then come home.  And if they needed any punch-ins?  Jammies+drive+rerecord.  And if they needed any pickups?  Jammies+drive+record.  Round and round you go.  Now, you just walk into your control room or office, hit record, go record, stop recording, name the files, upload, invoice, done and mic drop.
A sea change has come to the voiceover industry, revolutionizing and equipping thousands to pursue their dreams of voiceovers.  What does that mean for you?  It means the same thing I try to convey in every blog I write, every workshop I give, every video consult I perform, every communication I utter in the name of voiceovers.  It's four words:
YOU. CAN. DO. THIS.
Remember that.  And now for the big reveal: the title of the book, mentioned here in a preemptive trademark-lawsuit-preventative strike so that no one else can steal it.  The title?  "Been there, said that."  Tres bien, no?  All rights reserved.  I'm enjoying writing it, and my fingers hurt from so much typing, but it's a good hurt.  I can't wait to share it with all of you……for a small fee.
And now I'll say to you what Glenne Headley's character The Jackal said in Dirty Rotten Scoundrels:
 "Ready?  Then let's go get 'em."
Just make sure to "go get 'em" on the correct side of the highway…found that out the hard way. Such nice men with handcuffs.
===
HEY!  WAIT JUST A S.E.C.!!!
S.UBSCRIBE: If you liked this blog, please consider subscribing
E.NCOURAGE: Go encourage someone else today with a single, simple sentence of affirmation.
C.OMMENT: I want to hear from you!  Please feel free to comment below, and share this blog with others.
Need a voiceover?  Request a quote today or visit my Demo Reel. Or subscribe.  Or other things.
Joshua Alexander
Seattle Voice Actor & Voiceover Talent for hire
me@saysomethingjosh.com
206.557.6690
www.saysomethingjosh.com
www.joshyface.com
www.joshygram.com
www.joshypin.com
www.joshylinked.com
www.joshytweet.com
www.joshyvids.com
#voiceoveractor #voiceactor #voiceacting #voiceoverwork #voiceovercareer #voiceactors #voicetalent #voiceovertalent #voiceoverlife #volife #voiceoverartist #voiceoverwork #voiceoverlife #voiceoveragency #voiceovercareer #voiceoverblog #voblog #blog #locutor #voiceartist #voicecoach #voiceactors #voicetalents #voiceoverartist